Dismiss First World Problems at Your Own Cost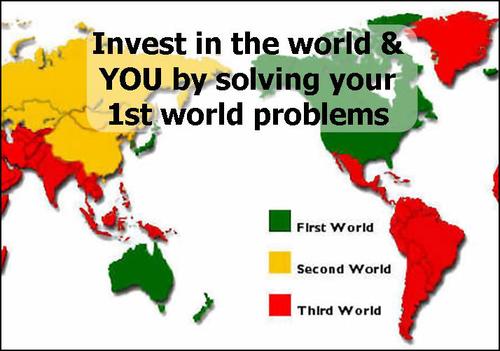 Have you ever felt part of you scream, "I should be happier than I am" or "I feel bad as I should have achieved more by now "?
Have you diminished or ignored feelings of frustration, sadness or disappointment by comparing your problems to those living in war and famine countries?
You may even have said to yourself or someone else…  Pffft. 1st world problem!
The reality is, most of our problems here in Australia can be summarily dismissed with the above statement.  But the cost of doing so is enormous.  In fact, our economy loses billions of dollars each year due to the effects of First World Problems (and, what's far worse, we have youths who find their First World Problems so large and consuming that death seems to be the only way out).
My belief:  The challenge of learning how to be happy with relative abundance and with little adversity to overcome is very real.
So, we have a choice.
We can choose to live in the lucky country & silently bare the load of having "unworthy" problems.
That is, we can do nothing & exist in paradise in a "pretty happy state."
Or
We can acknowledge we are fortunate to have such high-level problems to tackle and take on the task of learning how to solve them with joyful enthusiasm.
First-world problems may be our most important problems.  Learning to solve them will see you make the best of your life.  It will also allow you to contribute to the quality of life for your children, your friends, family, colleagues and their associates… so they can invest their energy in worthwhile causes too.
So, simply by working through your 1st world problems, you are investing in yourself and helping the world to become a better place!